The perfect restaurant for banquets and events
During the winter, L'Approdo beach resort and restaurant turns into a perfect place for banquets and events.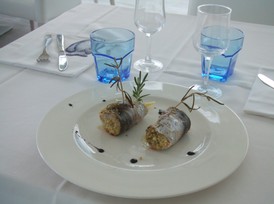 Elegant, refined, and enclosed in a bright panoramic veranda where the white furniture interlaces with the evocative hues of the sky and sea, L'Approdo restaurant is the ideal place for banquets for up to 40 people, special events and romantic dinners.
Whatever the occasion - Christening, Holy Communion, Confirmation or anniversary - a large private parking area is at the guests' disposal. L'Approdo will fascinate everyone. Children can play at the beach and adults can enjoy the wonderful location and unique cuisine of the Marche region, delicious seafood menus and local recipes prepared by the skilful hands of the owners who use only fresh high-quality products.